The Origins of Ongoing Opportunity
The Economic Benefits of Higher Education Institutions in the Dallas‑Fort Worth Area
Published on January 04, 2019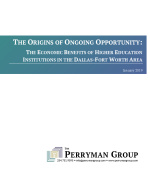 A trained workforce is essential to growth in any economy. In the current environment of growing complexity in business operations of virtually all types, quality education is increasingly important from both the individual's and the employer's perspectives.
Higher education is particularly crucial to future economic growth as well as personal financial success. In addition, the non-pecuniary benefits of a more active and informed citizenry, an enhanced cultural environment, and a more sustainable social structure are profound. All of these factors are particularly crucial to the Dallas-Fort Worth area, one of the most dynamic and diverse centers of economic activity in the world.
Education at all levels is crucial to ongoing prosperity, and areas with a highly skilled workforce are more competitive in attracting quality corporate locations and expansions.
Approximately 17 sizable institutions of higher education in the Dallas-Fort Worth area offer a wide variety of options to students for attaining the needed skills for future success, with many others also serving student needs. At the same time, these institutions are providing current and potential future employers with workers with needed skillsets and setting the stage for even greater competitiveness and productivity in the future. Enrollment has grown significantly over time, enhancing the economic importance of the area's universities, medical education institutions, and community colleges. Research at facilities within the region also helps to solve some of society's most pressing problems.
An outgrowth of providing advanced education is generating an economic stimulus with multiple dimensions. Higher education institutions spend extensively for operational needs, employ faculty and staff, and engage in construction projects; all of these activities lead to multiple rounds of activity within the regional economy. Research funding flows into the region and can generate commercialization opportunities and other positive economic effects. In addition, the enhanced productivity of graduates involves large economic benefits.
The Perryman Group (TPG) was asked to examine the economic benefits of higher education facilities across the Dallas-Fort Worth area including the multiplier (or ripple) effects through the economy.
For more details please refer to the full report.