The Perryman Report & Texas Letter
The Perryman Group publishes a newsletter 10 times each year that offers concise coverage of important trends and events affecting the economy, as well as highlights from our short- and long-term economic forecasts for the United States, Texas, and cities and regions within Texas.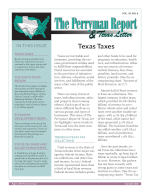 The newsletter also includes a "Regional Spotlight" section featuring one of the 12 Comptroller Economic Regions and its contribution to the state economy, short-term (five year) employment projections by industry, projected real gross product composition by industry, and recent development news. The "Focus On" section rotates through key economic indicators (employment, gross product, population, personal income, and retail sales), with each issue comparing projections for the state and its 26 metropolitan areas. In addition to these sections, economic development news from cities across the state and other topics of interest regarding the economy are regularly published.
A subscription to the eight-page newsletter is available for purchase at $150 per year and is provided on a complimentary basis to our consulting clients. Add this subscription by clicking the button below. Please also consider subscribing to our free weekly email updates delivered to your inbox every Monday morning: The Economist is a syndicated column by Dr. Perryman that covers a wide variety of current economic issues in the United States and Texas.
Regional Spotlight
Features a different Texas Comptroller Economic Region each issue

Highlights the region's contribution to the state economy

Includes employment forecasts by industry

Describes forecasted real gross product composition by industry

Summarizes recent development news for the region
Focus On
Compares projected economic indicators for the state and metropolitan areas

Includes employment, gross product, population, personal income, and retail sales

Covers all 27 metropolitan areas in Texas
Economic News
Compiles recent economic developments from cities across the state

Covers other topics of interest regarding the economy