Bordernomics
Defining Economic Opportunities, Potential, and Challenges Confronting the US ‑ Mexico Border Region and Strategies for Enhanced Prosperity
Published on February 07, 2018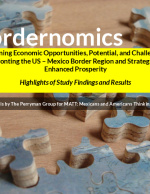 The Perryman Group's Bordernomics study analyzes the economy of the US-Mexico border region in order to improve understanding of regional dynamics and identify actions which could generate meaningful improvement. The full study provides background information and a summary of current economic conditions, addresses the importance of NAFTA, describes challenges and opportunities faced in the border region, and estimates the business activity and jobs which could be added with enhanced cooperation among the US-Mexico border states.
Although there have been prior studies of border issues, this effort provides an unprecedented level of detail with regard to potential benefits, including results by state and major industry group. This summary provides a brief overview of the results of this analysis.
For more details please refer to the full report.