The Economic Impact of the Texas Census Undercount
Published on June 03, 2022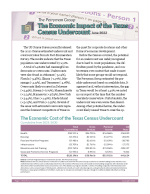 The US Census Bureau recently released the 2020 Census estimated undercount and overcount rates from its Post-Enumeration Survey. The results indicate that the Texas population was undercounted by 1.92%.
From an economic perspective, the consequences are profound. The projected losses in funding through 2030 total many billions of dollars for Texas in programs such as health care, housing, education, and infrastructure that are critical to the ongoing wellbeing of the population. The cumulative costs of the downstream effects over the 2021 through 2030 period include an estimated $59.0 billion in gross product and over 640,000 job-years in Texas (when multiplier effects are considered).
For more details please refer to the full brief.