The Importance of Russian Trade and Investment Activity to the Texas Economy
Published on April 27, 2022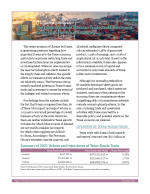 The recent invasion of Ukraine by Russia is generating questions regarding how important Russia is to the Texas economy, particularly as policies restricting trade and investment interactions are implemented or contemplated. While no area can escape the near-term disruptive effects related to the supply chain and inflation, the specific effects on business activity within the state are relatively minor. The Perryman Group recently analyzed patterns in Texas-Russia trade and investment to assess the extent of the linkages and related economic effects.
Key findings from the analysis include the fact that Russia comprised less than 1% of Texas total import and export volume in 2021 and a very small percentage of overall business activity in the state. Moreover, there are neither substantive Texas exports to Russia for which other sources of demand are not readily available nor imports for which other suppliers are difficult to obtain. According to The Perryman Group's estimates, exports, imports, and all related multiplier effects comprised only an estimated 0.38% of gross state product, 0.35% of earnings, and 0.63% of employment (at 2021 levels). Based on the information available, Russia also appears to be a minimal source of capital and accounts for only small amounts of Texas public sector investments.
For more details please refer to the full brief.