Celebrating Fifty Years of Excellence
The Economic Impact of The University of Texas Permian Basin
Published on October 26, 2023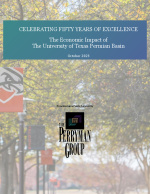 The University of Texas Permian Basin (UTPB or UT Permian Basin), now in its 50th year of operation, is the only four-year university in the area and provides the Permian Basin and beyond with qualified graduates and significant economic stimuli. The University serves a diverse student population and provides important cultural and professional resources for students, staff, and the surrounding community. The University prides itself on "thinking large and living local," which has direct economic and societal implications for the local graduates and the surrounding area.
Community impact is an important piece of the University's mission and goals, and it supports the Permian Basin in a variety of ways. Well-qualified graduates enhance the local economy, the Wagner Noel Performing Arts Center serves as a premiere venue for live entertainment, and the Small Business Development Center provides resources for community businesses. The institution furthers the "technology and public interests of West Texas" and "cultivates engaged citizens." </>
The Perryman Group measured the overall economic benefits associated with major categories of activity. The University provides well-paying jobs and purchases resources in the local area. Students spend money for housing, food, and living expenses, while visitors lead to an influx of funds as they attend educational, sporting, and cultural events. Construction projects and research also generate direct economic activity. Multiplier effects also add to these economic benefits, and positive impacts spread across the entire economy.
For more details please refer to the full report.