The High Cost of Heat
Published on July 24, 2023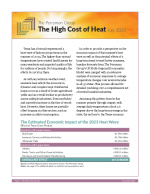 Texas has obviously experienced a heat wave of historic proportions in the summer of 2023. The higher-than-normal temperatures have created health issues for many residents and impacted quality of life for millions of people. Not surprisingly, the effects do not stop there.
As with any extreme weather event, excessive heat affects the economy in dynamic and complex ways. Substantial losses occur as a result of lower agricultural yields and an overall decline in productivity across multiple industries. Even morbidity and mortality increase in the face of record heat. However, these losses are partially offset by gains in other sectors, such as increases in utility consumption.
For more details please refer to the full brief.