The Economic Effects of Family Caregivers
Published on October 15, 2021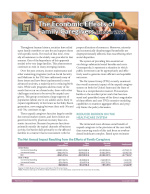 Throughout human history, societies have relied upon family members to care for and support those with specific needs. For much of that time, virtually all assistance to the elderly was provided in that manner. One of the byproducts of this approach tended to be very large families. This phenomenon continues to exist in many emerging nations.
The system of providing this essential service brings substantial social benefits and costs. Consequently, it represents a situation in which public investment can be appropriately and effectively used to generate more efficient and equitable outcomes.
The Perryman Group (TPG) recently examined the overall economic impact of the unpaid caregiver system on both the United States and the State of Texas in a comprehensive manner. This analysis builds on the excellent prior work that has measured and quantified many of the direct magnitudes of these efforts and uses TPG's extensive modeling capabilities to examine aggregate effects and properly frame the policy discussion.
For more details please refer to the full brief.