The Potential Economic and Fiscal Impacts of a Jail Diversion Program and Restoration Center for Mental Health and Related Disorders in Baton Rouge
Published on April 10, 2015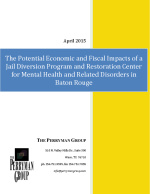 Local jails are typically poorly equipped to deal with mental illness and related issues. Nonetheless, individuals with mental disorders are all too often incarcerated simply due to a lack of other options. Not only do these persons fail to receive needed and adequate treatment, but are also more likely to have various complications both when in custody and after release. At the same time, incarceration is costly for communities. In response to these concerns, programs have emerged across the country which seek to offer more appropriate options for both persons suffering from mental disorders and communities attempting to provide necessary services with scarce resources.
One type of program which has been successful in a number of communities across the United States is "jail diversion." The goal is to divert individuals away from jail and into more appropriate settings for treatment. Such programs can reduce time spent in jail without increasing public safety risks, resulting in better outcomes for persons with mental disorders as well as communities.
Even as the Baton Rouge (East Baton Rouge Parish) area faces a shortage of jail space, the number of inmates with mental health conditions and related issues has been increasing due to the closure of the Earl K. Long Hospital and downsizing of state mental health facilities. More recently, the Baton Rouge General Medical Center has announced the closure of the Emergency Room (ER) at its Mid-City Campus. Many of the indigent patients treated at that ER (often on a recurring basis) have mental health issues, and therefore the need for an alternative to treat these individuals, other than jail, is more critical than ever for the Baton Rouge area. A jail diversion program has been proposed, offering a crisis care continuum to better serve individuals in need of treatment for mental disorders and the community as a whole.
In addition to the fact that it is typically an ineffective and inappropriate means of dealing with persons with mental health concerns, incarceration is costly for the parish and jail diversion programs have consistently proven to reduce direct expenses. In addition, such an initiative can improve outcomes through more appropriate treatment and the related reduction in societal costs of secondary effects of mental disorders (such as disability, homelessness, and mortality) as well as fostering increased productivity.
The Perryman Group was asked to examine the potential economic and fiscal benefits of a jail diversion program and treatment center in Baton Rouge (East Baton Rouge Parish). This report presents the findings from this analysis.
For more details please refer to the full report.