US‑Mexico‑Canada Agreement a Major Win for the Economy
Published on January 30, 2020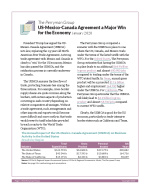 President Trump has signed the US-Mexico-Canada Agreement (USMCA) into law, replacing the 25-year old North American Free Trade Agreement. A strong trade agreement with Mexico and Canada is clearly a "win" for the US economy. Mexico has also passed the USMCA, and the ratification process is currently underway in Canada.
The USMCA ensures the free flow of trade, protecting business ties among the three nations. For example, cross-border supply chains are quite common along the borders, with certain aspects of production occurring in each country depending on relative comparative advantages. Without a trade agreement, such arrangements and other imports and exports would become more difficult and more costly in that trade would revert to tariff schedules provided by each country to the World Trade Organization (WTO).
The Perryman Group compared a scenario with the USMCA in place to one where the US, Canada, and Mexico trade under the terms of the listed tariffs with the WTO. For the United States, The Perryman Group estimates that having the USMCA in place leads to an additional $64.9 billion in gross product and almost 600,900 jobs compared to trading under the terms of the WTO stated tariffs. In Texas, annual gross product will be a projected $17.6 billion higher and employment 164,700 higher under the USMCA. For California, The Perryman Group estimates that the USMCA will likely lead to $6.2 billion in gross product and almost 58,700 jobs compared to current WTO tariffs.
Clearly, the USMCA is good for the US economy, particularly in trade-intensive border states such as California and Texas.
For detailed, industry-level analysis, please refer to the PDF linked below.
For more details please refer to the full brief.