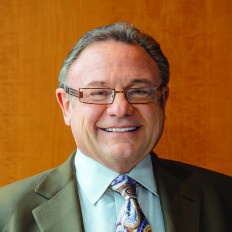 Dr. Ray Perryman is President and CEO of The Perryman Group, an economic research and analysis firm based in Waco, Texas. His firm has served the needs of more than 2,000 clients ranging from major corporations to small startups and from local communities to the federal government. Over the past 30 years, Dr. Perryman has helped recruit corporations providing tens of thousands of jobs through economic development work, resolved billion-dollar legal issues, and revamped public policy through impact assessments and other studies. His firm has measured economic impacts for corporate locations and expansions involving billions in investments, and his economic forecasts are used by corporations and government agencies alike.
Dr. Perryman has provided economic analysis and expert testimony for civil litigation across a wide range of practice areas including antitrust and competition, patent infringement and other intellectual property disputes, securities, and commercial and complex litigation. His work combines strong expertise in economic damages calculation, asset valuation, market analysis, and statistical methods and econometrics. Dr. Perryman has consulted and testified on disputes in numerous industries such as telecommunications, personal and mainframe computers, software and networking, consumer electronics, microelectronics, energy, health care, consumer products, e-commerce, pharmaceuticals, real estate, financial markets, banking, transportation, media content and distribution, and hospitality. His list of clients includes nationally renowned law firms and Fortune 500 companies and his expert opinions have helped shape important legal decisions.
Dr. Perryman holds a BS in Mathematics from Baylor University and a PhD in Economics from Rice University as well as an honorary doctorate from the International Institute for Advanced Studies. He has held numerous academic positions in his career including ten years as Herman Brown Professor of Economics and five years as University Professor and Economist-in-Residence at Baylor University, as well as five years as Business Economist-in-Residence at Southern Methodist University. His current academic roles include Senior Research Fellow of the IC2 Institute of the University of Texas and Institute Distinguished Professor of Economic Theory and Method at the International Institute for Advanced Studies.
Dr. Perryman has authored several books and more than 400 academic papers and has served as President of both the Southwestern Economic Association and the Southwestern Society of Economists. In the professional arena, he has authored more than 2,000 trade articles, publishes a subscription forecasting service and a monthly newsletter, writes a weekly syndicated newspaper column, hosts a daily radio commentary, and appears regularly on National Public Radio.
Dr. Perryman has been called a "genius" by The Wall Street Journal, a "world class scholar" by Business Week, the "unofficial state economist" by The New York Times, "the most quoted man in Texas" by Texas Monthly, and (his personal favorite) "the state's premiere barbecue connoisseur" by The Dallas Morning News.
He has received hundreds of prestigious awards for his academic and professional efforts. He has been named the Outstanding Young Economist and Social Scientist in the US, the Outstanding Young Person in the World in Business and Economic Innovation, one of Ten Outstanding Young Americans and Ten Outstanding Young Persons in the World. He is a past recipient of the Outstanding Texas Leader Award and has been honored by the Texas Legislature for his "tireless efforts in helping to build a better Texas." Recently, Dr. Perryman was selected as the 2012 Texan of the Year by the Texas Legislative Conference, received the 2013 Baylor University Distinguished Service Medal, and was inducted into the Texas Leadership Hall of Fame in 2014 by the John Ben Shepperd Leadership Institute. In addition, he received the 2016 Cesar E. Chavez Conscience Builders Award from the Cesar E. Chavez Legacy and Educational Foundation and is a Leadership Fellow of the National Association of Corporate Directors.
Dr. Perryman has been honored by The Democracy Foundation for his role in promoting capitalism in China, The Asia and World Institute for promoting international trade and academic exchange, and the Systems Research Foundation for his contributions to the field of modeling. He has also received the Lifetime Achievement Award from the International Institute for Advanced Studies. He has received citations from governments around the world, presidents, governors, Congress, and national and state administrative and legislative bodies.
Some of his most gratifying work has been in the field of economic development, where he has played a key role in the creation of hundreds of thousands of jobs. He also dedicates a significant portion of his time to pro bono work aimed at helping to solve pressing social problems such as hunger, indigent health care, and child maltreatment.
---
Dr. M. Ray Perryman | Senior Staff | Firm Profile | Clients | Contact Us