The Economic and Fiscal Benefits of The University of Texas Permian Basin
Published on October 05, 2020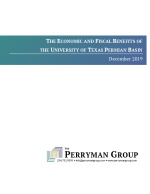 The educational opportunities offered by The University of Texas Permian Basin enhance employment prospects for students and improve the regional workforce and economic development potential. In fulfilling its primary role, UT Permian Basin generates a significant economic stimulus as well as incremental tax receipts. The University provides direct well-paying jobs, engages in major projects, and supports important research. Graduates are essential to the current and future business complex and enhance the competitiveness of the area. These activities contribute to the economy of the local area, region, state, and nation.
The Perryman Group recently estimated the economic benefits of UT Permian Basin as well as the associated increase in tax receipts to the State and local governments. University operations, student spending, and visitor spending result estimated total economic benefits of $177.5 million in gross product each year and 2,551 jobs in the Permian Basin. Construction, research, and graduates remaining in the area generate substantial additional benefits.
For more details please refer to the full report.