An Economic Assessment of the Cost of Cancer in Texas and the Benefits of the Cancer Prevention and Research Institute of Texas (CPRIT) and its Programs: 2015 Update
Published on December 21, 2015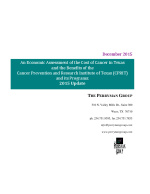 Since 2010, the Cancer Prevention and Research Institute of Texas (CPRIT) has served as a crucial aspect of improving cancer outcomes. CPRIT has helped attract leading cancer research scientists to Texas (including members of the prestigious National Academy of Sciences), funded research projects which have resulted in thousands of publications and a number of new patents, and provided grants for screening and related education which are improving access to lifesaving testing for some of the state's most vulnerable populations. The most recent cancer statistics indicate that incidence and outcomes in Texas are improving relative to those in the nation as a whole, due in part to CPRIT efforts.
In addition to their positive effect on health and wellbeing, these activities generate sizable economic benefits. We have quantified the cost of cancer in Texas and the economic benefits of CPRIT for several years.
This report updates the findings from TPG's analysis utilizing the most recent data regarding cancer incidence and results to date from CPRIT grants.
The cost of cancer in Texas as traditionally measured is about $31.3 billion in 2015 (about $1.1 billion lower than in 2014), with total losses (including spinoff effects) of an estimated $77.3 billion in output and over 818,000 jobs.
The current total annual impact of all CPRIT operations, prevention/screening and research programs (including initial outlays and multiplier effects) includes $762.4 million in output (real gross product) in 2015 as well as 11,342 jobs. When all secondary benefits are considered, these values rise to $5.4 billion in output and over 60,160 jobs.
This incremental business activity generates taxes for the State and local governments. For Texas, annual tax receipts associated with CPRIT grants and programs (including downstream effects) total $257.5 million in 2015; local public entities receive $119.8 million. Over the ten-year life of the current commitment, these incremental taxes are expected to total $3.6 billion for the State and $1.7 billion for local governments.
For more details please refer to the full report.