The Economic Cost of COVID‑19 Fatalities in 2020
Published on October 29, 2020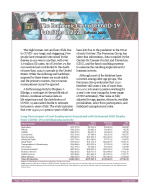 The high human cost and loss of life due to COVID-19 is tragic and staggering. Few people have remained untouched by the disease in one way or another, with over 6.7 million US cases. As of October 27, the coronavirus had contributed to the death of more than 225,000 people in the United States. While the suffering and hardships imposed by these losses are incalculable and the primary concern, the economic consequences cannot be ignored.
Although most of the fatalities have occurred among older age groups, The Perryman Group estimates that 2020 fatalities will cause a loss of more than 600,000 job-years (a person working for a year) over time. As these direct losses flow through the economy in the coming years, the cumulative effects include declines of approximately $200 billion in gross domestic product, $122 billion in personal income, and two million job-years (including multiplier effects).
Case numbers have been trending decidedly upward of late, and many hospitals are again becoming strained. If this pattern persists, the economic recovery will continue to suffer, particularly in the absence of a major new stimulus package. As the disease becomes better understood and effective therapeutics and vaccines are developed, both incidence and severity should be reduced. In the interim, it is important that all possible measures are taken to minimize the fallout.
For more details please refer to the full brief.