The Economic Outlook for Texas and Its Major Metro Areas
Recovery Slows, but Continues
Published on October 22, 2020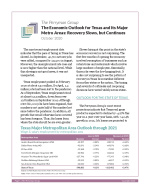 The most recent employment data indicates that the pace of hiring in Texas has slowed. In September, 40,700 net new jobs were added, compared to 111,900 in August. Moreover, the unemployment rate rose and is now higher than the national level. While this slowing is not good news, it was not unexpected.
Slower hiring at this point in the state's economic recovery is not surprising. The first few months of opening the economy involved resumption of businesses such as retail stores and restaurants which involve large numbers of employees. Essentially, those jobs were the low-hanging fruit. It is also not surprising to see the pattern of recovery in Texas be somewhat different from other states or the nation. The timing and severity of outbreaks and reopening decisions have varied widely across states.
The recovery is going to be uneven at best and will likely not fully occur until there are effective vaccines and/or treatments which are widely available. In the interim, it is important that federal, State, and local governments do everything possible to minimize disruptions to families, businesses, and the economy. Unless hospitalizations or other aspects of the pandemic require additional restrictions, however, the economy should continue to improve.
For more details please refer to the full brief.