Buy the Basin
Potential Benefits to Increasing Local Purchases in the Permian Basin
Published on June 05, 2020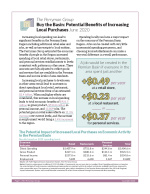 Increasing local spending can lead to significant benefits in the Permian Basin Region including additional retail sales and jobs, as well as tax receipts to local entities. The Perryman Group estimated the economic benefits if people in the Region increased spending at local retail stores, restaurants, and personal services establishments to levels consistent with patterns in other areas. These amounts are fully adjusted to reflect goods and services that are available in the Permian Basin and income levels of area residents.
Spending locally can have a major impact on the economy of the Permian Basin Region. Jobs can be created with very little incremental spending per person (see PDF for more detail), and choosing local establishments can make a very real difference in overall performance.
For more details please refer to the full brief.