The Economic Outlook for Texas and the Odessa MSA
Projected Recession and Recovery from COVID‑19
Published on April 22, 2020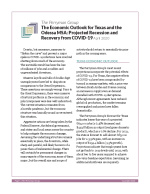 Drastic, but necessary, measures to "flatten the curve" and prevent a major spike in COVID-19 infections have involved shutting down much of the economy. The inevitable result has been the loss of millions of jobs and a sudden and unprecedented downturn.
Massive layoffs and talk of double-digit unemployment have led to ubiquitous comparisons to the Great Depression. These assertions are simply wrong! Prior to the Great Depression, there were massive structural problems in the economy, and policy responses were less well understood. The current situation emanates from a horrific pandemic, but the economic structure was basically sound as we entered this situation.
The forecast for the Odessa metropolitan area calls for significant losses this year of an estimated 10,400 jobs and $1.5 billion in output (real gross domestic product). However, some recovery is expected once the worst virus issues have passed and oil markets begin to recover, with the addition of a projected 6,890 jobs in 2021 (a 9.46% gain) and $1.3 billion in output (15.09% growth).
Although several years will be required for recovery, The Perryman Group's long-term outlook remains positive for Texas and the Permian Basin. As noted, the economy was sound going into the COVID-19 pandemic and should be able to emerge and recover in a reasonable period of time.
For more details please refer to the full brief.