COVID‑19 Pandemic Could Cost Tens of Thousands of Job‑Years in Texas' Largest Metropolitan Areas
Published on March 27, 2020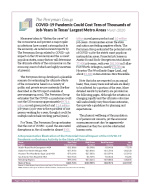 Measures taken to "flatten the curve" of the coronavirus and prevent a major spike in infections have caused a strong shock to the economy. As noted in recent reports by The Perryman Group related to COVID-19's impact on the US economy and the 10 most populous states, many factors will determine the ultimate effects of the coronavirus on the economy, most of which are highly uncertain at present.
The Perryman Group developed a plausible scenario for estimating the ultimate effects of the coronavirus based on a variety of public and private source materials (further described in the US report). The Perryman Group estimates that the COVID-19 pandemic could cost the US economy approximately $972.6 billion in real gross product and 11.4 million job-years (a job-year is the equivalent of one person working for a year, though it could be multiple individuals working partial years).
For Texas, The Perryman Group estimates that the cost of COVID-19 and the associated disruptions in the oil market is almost $101 billion in real gross product and 1.0 million job-years. Communities across the state and nation are feeling negative effects. The Perryman Group estimated the potential costs of COVID-19 for the state's most populous metropolitan areas. Projected job losses in Austin-Round Rock-Georgetown total almost 77,400 job-years, with over 282,500 in Dallas-Fort Worth-Arlington, nearly 256,000 in Houston-The Woodlands-Sugar Land, and about 81,300 in San Antonio-New Braunfels.
Note that jobs are reported on an annual basis; thus, many more individuals are likely to be affected for a portion of the year. More detailed results by industry are provided in the PDF linked below. Although the situation is changing rapidly and the ultimate outcomes will undoubtedly vary from these estimates, they provide a guideline for planning and expectations.
The physical wellbeing of the population is of paramount concern, yet the economic consequences must also be aggressively addressed as they too involve substantial human costs.
For more details please refer to the full brief.